Pricing and Services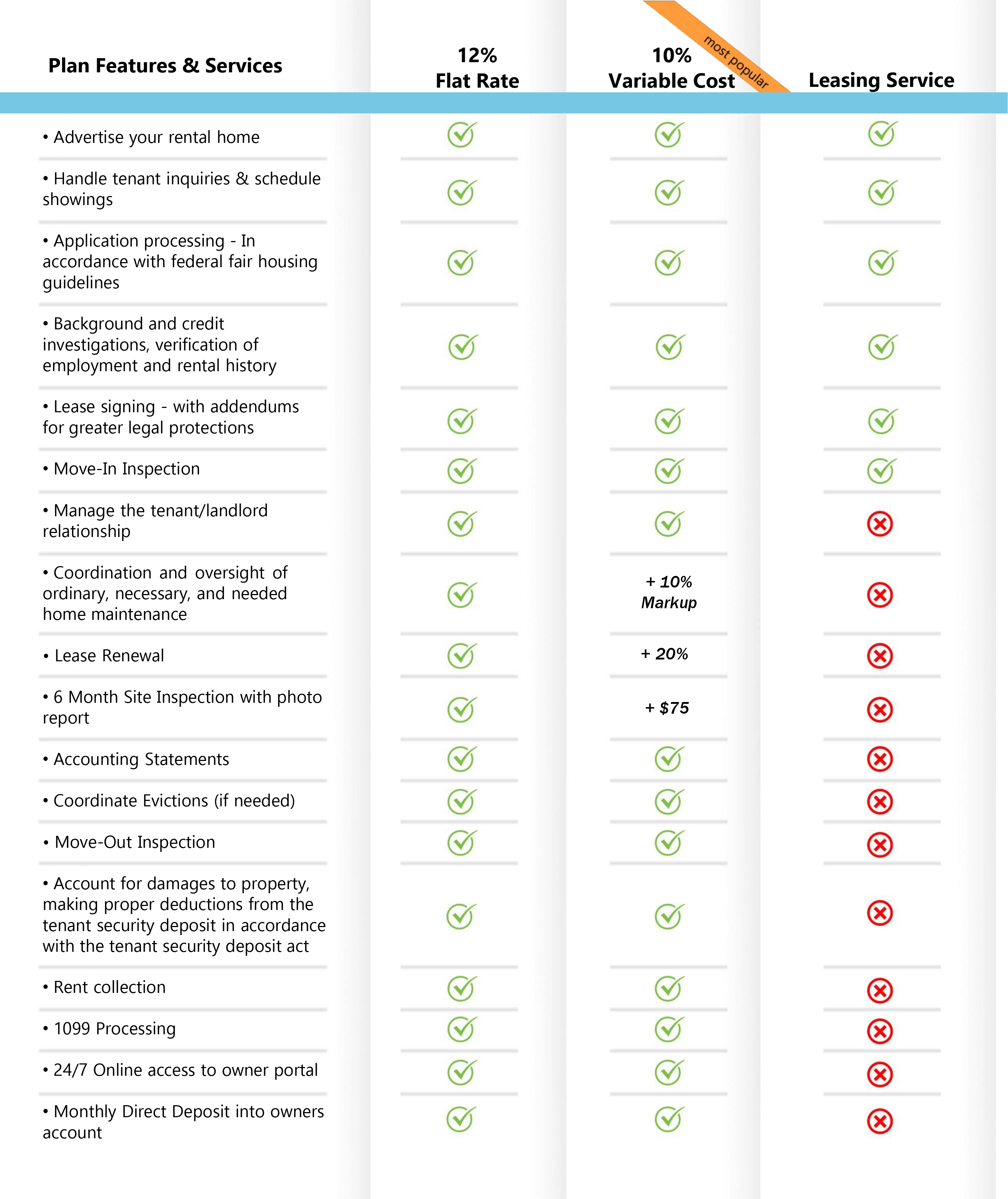 Full Service Property Management:
This is the level of service that 95% of our clients choose. If the idea of having "the professional take care of it" appeals to you, this is the way to go! While there is some level of involvement from the homeowner, much of that takes place in the early stages. Once the property is leased, the management team will coordinate routine maintenance items, manage the tenant/landlord relationship and all the other day-to-day activities like rent collection. This is a great way for homeowners to earn passive income and build wealth. Take the burden of being a landlord off your shoulders and experience the freedom and confidence that results from partnering with Cotton Property Management. We offer professional management of long-term rental properties in the greater Wilmington, NC area.
10% - Variable Cost Plan
Competitive 10% Management Fee
$350 One-time administrative fee
$75 for each (6)-month inspection with photo report
$250 Lease Renewal Fee* - See below for details
10% Markup on Maintenance** - See below for details
NO CHARGE FOR NEW TENANT PROCUREMENT!
This plan is our standard package, providing full-service property management with a monthly management fee of 10% plus a number of other ongoing charges listed below:
*(6) Month Inspection with Photo Report - $75 – In addition to move in and move out inspections which are included in the monthly fee, we also provide a 6-month, mid term lease inspection. These serve a number of different purposes

When residents know in advance that we will be monitoring the property and conducting site inspections it helps to create expectations that curb unwanted behaviors.
Scheduling these inspections provides an opportunity to monitor for lease compliance and check to see if things like air filters are being changed for instance.
With regards to home maintenance and repairs, we subscribe to the philosophy that an ounce of prevention is worth a pound of cure. Being on site, with a trained eye, affords us the opportunity to observe current and future maintenance needs and to address them before they cause a bigger issue. While most residents are well intended, not everyone is attuned to the various components of home maintenance and may overlook some of the finer details. Although our staff members are not licensed home inspectors, they receive training to prepare them to observe issues that the average resident may overlook.

**Lease Renewal Fee - $250 - When an existing tenant signs a new lease agreement or extends a lease agreement this fee applies. It is our goal to ensure that we have a high retention rate for our tenants. We expend a good deal of time, energy, and resources providing top-notch service to our residents so that they will want to stay as long as possible. While some companies charge a fee each time a tenant is placed and moves in to the property, we've found this creates a conflict of interest between the homeowner and property manager. Homeowner's stand to lose money each and every time a property is turned over. Costly vacancy loss (lost rental income) combined with turnover costs like cleaning, touch up paint and other repairs can add up and be the difference between earning a profit or showing a loss. That's why we work diligently to ensure that we don't give tenants a reason to want to move out. It's estimated that 1 in every 5 residents moves out and finds another place to live as a result of a poor response to needed maintenance. We work diligently to ensure that our clients don't suffer that loss unnecessarily. While on the surface it may appear that signing a lease renewal is a small administrative task, but it's actually a very comprehensive process. Our clients expect and deserve that we conduct a market analysis at lease renewal time to ensure that we are asking for a competitive market rate rent. We will inevitably need to discuss with the current Resident as to whether they have a desire to renew the lease agreement for another year or subsequent period of time. Of course, we will have our own internal criteria for determining if lease renewal is an option we wish to extend. We begin this process 75 days before the lease expires and it often takes 30-45 days before we have signed a lease renewal. Frequently at this time, we see residents who want to do a roommate swap where one tenant will move out and another one will take their place. This requires that we have them apply, review their application, alter the existing lease agreement with the new resident's information etc. All of this is part of our lease renewal process and this is someone's full time job. This fee ensures we are properly staffed in order to reduce costly vacancy turnover and negotiate market rate rents.
***10% Maintenance Premium – Beyond the shadow of a doubt, other than leasing out the property, there is no single facet of our work that consumes more time and energy than handling and facilitating the maintenance and upkeep of the property. We have a robust process that begins at move in. We take time at the beginning of the move in process to educate our residents about what their responsibilities are and schedule an on-site visit with them to go over the various components of the home and ensure they have been equipped and educated to do their part. When our management team receives a work order, we begin by asking questions and troubleshooting with them over the phone to determine if service is needed and necessary and who is the most well-suited vendor for the job. We will coordinate and handle all needed, necessary and ordinary maintenance and repairs on the property throughout the lease term. More costly repairs may require multiple bids and we may take on larger home improvement projects on a case-by-case basis.

Even on the small, routine items, we want to follow up to ensure that the repairs were handled in a workmanlike and professional manner and to review the invoice and ensure the work was performed at a reasonable cost. Our tried-and-true vendors provide an excellent service at a reasonable cost. Managing these relationships and the coordination of maintenance services takes time to do well and we believe this to be a strength for our team.

10% markup on top of the actual cost of home maintenance services provided is our fee for managing maintenance. If a plumbing invoice for work performed at your rental property comes in at $150, we will add an additional 10% on top of what the actual cost is for the invoice received by the vendor who is on site performing the work. The vendor charges $150, we charge another $15 for our oversight and management of the process and people involved.

Rather than taxing all of our clients by charging a higher management fee percentage, this plan provides a cost savings for well-maintained homes that require less time from our staff.
12% Flat Rate Plan
12% Management Fee
$350 One-time administrative fee
If you want the full service package with no guesswork and a clear understanding of what the management fees will be each and every month, this may be the way to go. Rather than budgeting or planning for inspection fees, lease renewal fees and upcharges on any maintenance performed, you will know your costs each and every month without any guesswork. This plan makes it easy to budget and plan making your monthly direct deposit amounts more consistent. This plan may also deliver a greater value if you anticipate that your home will require a good deal of maintenance.
Leasing Service:
If you are a hands-on landlord who wants to be actively involved in the day-to-day affairs and management of your home this may be a good fit for you! If you are having trouble wrestling with the idea of relinquishing control of your home, are a very handy person, has had experience managing homes before, feels confident managing the tenant-landlord relationship and may have experience managing contractors and home renovations and repairs, you'll like this package. We will advertise, show, screen/vet and otherwise qualify the applicants, handing you a signed copy of the lease agreement, the security deposit and a move-in inspection report. Once those items are completed, Cotton Property Management will join the hands of the homeowner and tenant and walk away. The landlord will be responsible for rent collection, managing the tenant landlord relationship and all home maintenance from that point forward. When the tenant moves out, feel free to give us a call to engage our limited leasing service again to source, vet, and place another tenant with a comprehensive lease agreement and various other addendum for greater legal protection.
Pricing and fees:
Our fee for this service is one month's rent. If your home rents for $1500/month that's our fee. Nothing more, nothing less.
Find out more