Pricing and Services
Full Service Property Management:
This is the package that 95% of our clients choose. If the idea of having "the professional take care of it" appeals to you, this is certainly the way to go! While there is involvement from the homeowner, much of that takes place in the early stages. The management team will coordinate routine maintenance items, manage the tenant/landlord relationship and all the other the day-to-day activities like rent collection. This is a great way for homeowners to earn passive income and build wealth. Take the burden off of your back and experience the freedom that our service provides!
Pricing and Fees:
Competitive 10% Management Fee - NOT 12%!
$300 One-time administrative fee
$75 for each mid-year/6-month inspection report with photos of your home
There are a couple other fees which may or may not occur during the course of a lease:
If a tenant pays late (and we hope they won't) we impose a 5% late fee on the tenant to discourage future late payments. In such cases, we split the late fees 50/50 with the homeowner.
$250 Lease Renewal Fee – It is our goal to ensure that we have a high retention rate for our tenants. We expend a good deal of time, energy, and resources providing top-notch service to our residents so that they will want to stay as long as possible. While some companies charge a fee each time a tenant is placed and moves in to the property, we've found this to be a disservice to and out of sync with the homeowner's best interest. Homeowner's stand to lose money each and every time a property is turned over. Costly vacancy loss combined with turnover costs like cleaning, touch up paint and other repairs can add up and be the difference between earning a profit or showing a loss. That's why we work diligently to ensure that we don't give tenants a reason to want to move out. It's estimated that 1 in every 5 residents moves out and finds another place to move as a result of a poor response to needed maintenance. We work diligently to ensure that our clients don't suffer that loss. This is our incentive to do so.
That's it! No other fees period! No hidden costs, no mark up on maintenance, nothing!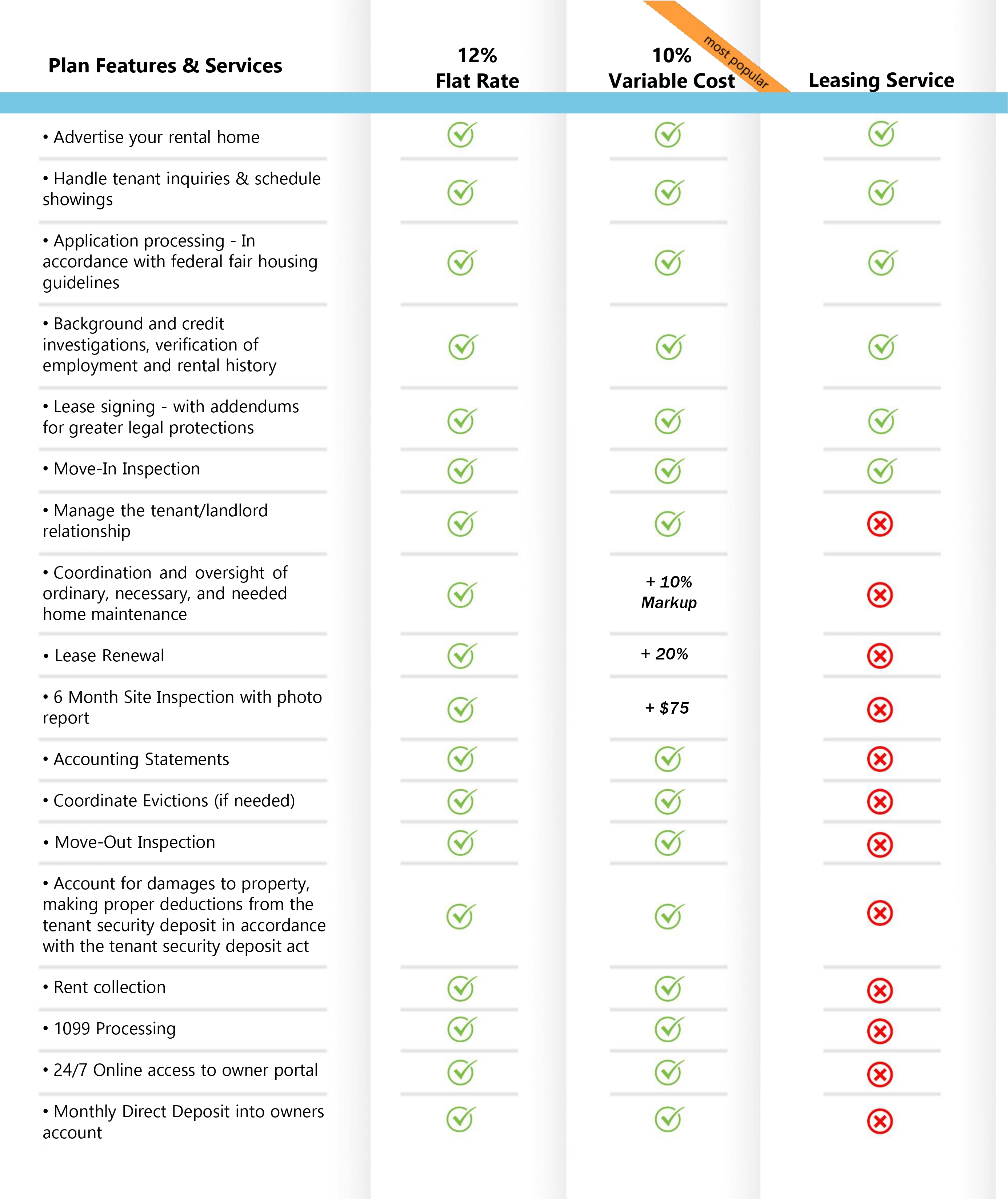 Leasing Service:
Are you more of a hands-on landlord who wants to be actively involved in the day-to-day affairs and management of your home? This is probably a good fit! If you are having trouble wrestling with the idea of relinquishing some control, are a very handy person, has had experience managing homes before and feels confident managing the tenant-landlord relationship, you'll like this package. We will advertise, show, screen/vet and otherwise qualify the applicants, handing you a signed copy of the lease agreement and the security deposit. Once those items are completed, we will send you a move-in inspection report and you can take it from there!
Pricing and fees:
One month's rent. If your home rents for $1250/month that's our fee. Nothing more, nothing less.
Find out more