Hampstead Property Management
Let Us Manage Your Hampstead Rental Property
We offer a full range of property management services tailored to you as an investor, homeowner, or landlord. We have an extensive porfolio of single family homes, townhouses, condos, and apartments in the Hampstead area.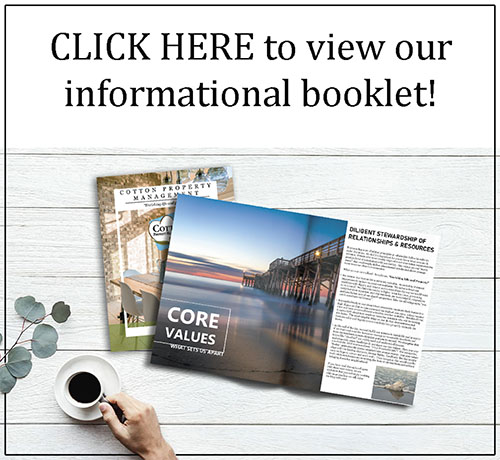 The Benefits of using Cotton Property Management
Friendly, professional, courteous service - By an agent who knows your name and understands your goals, perspective and needs.
No hassle management - You can relax knowing that a licensed professional is handling your affairs
Automated owner statements - You can count on receiving monthly and year end statements to seamlessly track expenses and income for tax purposes.
Online Owner Portal Access - Your records are accessible at any hour; day or night.
Industry leading marketing tools - Our sophisticated marketing process utilizes the best tools in the industry providing maximum exposure, giving us the opportunity to select the most qualified resident for your home.
24/7 maintenance request handling - Rest assured that if the unforeseen and unfortunate were to take place - We have a plan for that! Designated vendors are on standby waiting
Online rent payments for tenants - Making rent payments available online simplifies life for the residents and makes it more likely that we will receive timely payment of rent regardless of whether a holiday lands on the day when rent is due.
Prompt Response to Tenant Requests - It's estimated that over 20% of tenants opt not to renew their lease because of a poor response to maintenance needs. Our goal is to provide superior service and response to needed maintenance, saving costly turnover expenses associated with unnecessary vacancy loss.
Low vacancy rate - Part of the value we deliver is ensuring that your home is not on the market more often than needed. Tact, diplomacy and our "more bees with honey philosophy plays into this.
Low time on market - Using our personal, in-person, agent showings combined with technology designed to make your home available for showings when it is convenient for prospective residents has aided in our track record of having some of the lowest vacancy times in our market.
Industry specific local knowledge
What we do as your Hampstead property manager:
Fill vacancies
Advertise your rental
Manage the tenant/landlord relationship
Handle tenant inquiries & schedule showings
Background and credit investigations, verification of employment and rental history
Application processing - in accordance with federal fair housing guidelines
Lease signing - with addendums to enhance the standard lease for greater protections
Full service repair for all common, ordinary and necessary ongoing home maintenance
Rent collection
Accounting
Coordinate Evictions
Inquire About Our Services
Marketing

Marketing is key to successful rental management. Even if your home is very desirable and well priced, if no one knows about it, it's going to sit vacant. Using the best tools available in the industry, in our hands your home will be advertised on nearly 60 rental websites for maximum exposure.

Tenant Screening

One of the most crucial components of what we do comes down to vetting prospective tenants. If everything is done right and this step is not, the results will be poor at best.

We conduct extensive screening on all tenants to ensure that they are:

Gainfully employed
Have a history of paying their debts and meeting their obligations (credit score) and
Have an outstanding review from their prior landlord.

We will also ensure that utilities are transferred, renters insurance is obtained and a security deposit is held in accordance with general NC General statutes prior to releasing the keys to the property.

Rent Collection

We make sure you get paid on time, every time. You no longer have to worry about rent showing up in your bank account because we take care of everything so you have to worry about nothing. While we certainly can accept a paper check, more than 90% of our residents opt to pay conveniently online, without hassles and on time more often than not.

Maintenance

We conduct inspections upon move-in and move-out that include documentation of the property's condition, photographs of every wall, floor, and surface to ensure and ensure all maintenance issues are addressed in a timely manner.

Security Deposit Handling

Perhaps one of the more tricky items involved is the proper handling and use of the security deposit. NC General Statutes place strict guidelines for the use of the security deposit and does not allow for "normal wear and tear" to be assessed against the deposit. We will work to ensure that the homeowner is made whole and that any and all damages are accounted for during each turnover.

Financial Reporting

With our detailed financial reporting tools, it's never been easier to keep tabs on your investment. Log into your owner portal to view statements and stay in tune with how your investment is performing.

Eviction Protection

In the unfortunate event that a tenant is in breach of the lease, we are pleased to file the appropriate paperwork in a timely manner so as to minimize any losses, gain control of your home. We will do this as the law allows and in a winsome way, so as to maintain the goodwill of the residents as much as possible.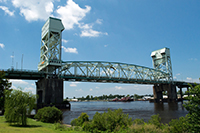 Hampstead is an unincorporated community in Pender County, North Carolina, United States. It is located between Wilmington and Jacksonville on U.S. Route 17. Hampstead is part of the Wilmington Metropolitan Statistical Area.
Wikipedia
Areas We Serve
{module_contentholder name="areas" %}